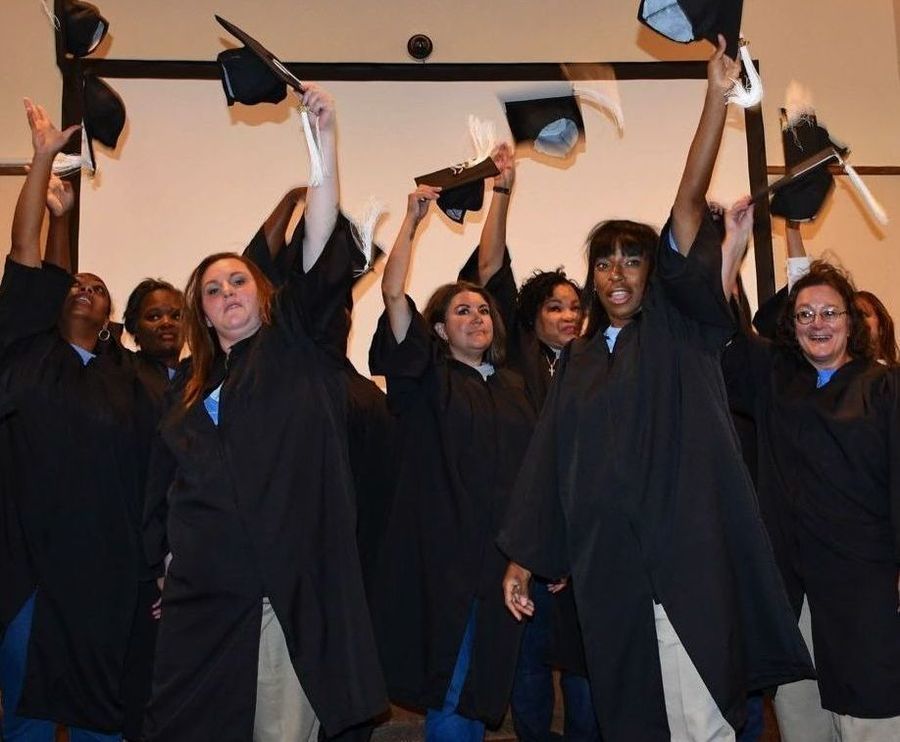 "Our heartfelt gratitude to each and every donor."
Today is the last day in 2021 to help us reach our goal. While it's easy to get caught up during the holidays, remember that YOU have the power to make a difference in the lives of WOMEN in PRISON. There's no greater feeling than one of giving HOPE to those who are hungry and thirsty for HOPE beyond prison walls!
A pilot program with a junior college in York began at the Nebraska Correctional Center for Women (NCCW). The first graduation was held in 2019 and the photo shows the result of determination. These ladies had jobs in the prison, took classes and had homework to do - common to college students. Our hats are off to them for planning for a future and not waiting for it to come to them - they stepped into making significant changes in their lives. 
Thank you for your suppport and encouragement in 2021! You are providing a blessing to the women at York as they are getting a new understanding of who God sees them as with every letter sent. Our writers remain faithful in sharing the GOOD NEWS with them and pointing to the only true HOPE that is found in Christ Jesus. God has a plan and purpose for each woman in prison, that far exceeds anything they could hope for or imagine.  
Our Year-end Funding Drive ends at midnight.  Please consider giving a donation before the clock strikes midnight. We pray that God will bless and multiply your involvement, whether you are volunteering and/or a financial supporter! We will see you next year!  DONATE
Blessings,  Margaret Wiles, Executive Director, Letters of Hope Ministries, P O Box 460841, Papillion, NE   68046