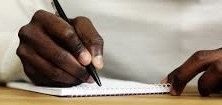 Vicky, a volunteer, had this to share about why she became a letter writer.  
"I have been a LoHM volunteer for 2 years and enjoy writing to the ladies.  Initially, I resisted being in this ministry because I was in a season of having a hard time encouraging myself but said 'yes' anyway. I thoroughly enjoy writing to the ladies and hearing back from them. It encourages me when I hear from them."
One of the ladies wrote to me, "I really thank you for keeping in touch with me you really makes my day better and I appreciate you so much!" 
"I just want them to know that I am encouraged by their letters back to me. This has been a great opportunity to give of my time to the Lord and I am so grateful for the opportunity."